Select Canvas Width:
(horizontal side)
Select Canvas Height:
(vertical side)
Select Canvas Depth:
(stretcher bar thickness)

Canvas Preview: 109"W x 22"H x 1 3/4"D

BOGO Promotion: Buy 1 Canvas Get 1 FREE
2nd canvas MUST BE ADDED to the cart for the discount to apply

$1059

($530 each canvas with promotion)

Promotion ends Tue, Dec 5th at 11:59 PM

FREE SHIPPING. Ship in 7 to 10 business days.
Contact us about rush order or expedited shipping

Loading... Please Wait...

or pay as low as $44/mo with financing option

When will I receive my order?

Production takes 7 to 10 business days. Shipping and transit take 4 to 7 business days. If you place the order today, Dec 5th, you should receive it before or around Dec 19th.

If you have a tight deadline to meet or buying 5 or more items, please contact us for lead time and expediting options.

Can you expedite my order?

Depending on our production schedule, we can expedite an order for an additional fee. The fee is calculated based on the additional resources and shipping fee required to build and expedite your order.

Is there a tracking number for my package?

Yes, when your order is shipped, we will send you an email with the tracking number to track the status of your package.

What to do if my order is delivered damaged?

It's very important to take pictures of the damages on the outside of the box, damages on the item, and packing material inside the box to file a claim. These pictures will be used later in the claims process as proof of carrier fault.

If you are present at the time of the delivery, you must clearly write note about the damage on the POD before signing the POD for damage. The POD is the "Proof of Delivery" and acts as a delivery receipt for the goods being shipped. You could also choose to refuse the freight AFTER taking pictures and documenting the damage, in which case most carriers will send the damaged product back to the shipper for inspection.

If damage is not noted on the POD or there is not any picture of the damage, the carrier will most likely deny your claim.

Once you have taken photos and documented the damage, YOU MUST CONTACT US WITHIN 2 DAYS OF DELIVERY. If you or your client will be out of town or going on a vacation, let us know within 12 hours of the order confirmation and we can hold the order until you are back in town. We cannot file a damage claim or issue a replacement if you notify us after the 2 day period has expired (no exceptions).

What is the price and shipping fee for a canvas size .....?

For pricing, please go to the product ordering page and select the size or frame you need. Prices will change base on the size and/or frame you selected. Currently, there is a free shipping promotion so the price you see is the final price with shipping and delivery.

What is the texture and weight of the canvas?

We use the medium texture, heavy duty, professional grade canvas made from 100% cotton canvas and doubled primed with acid-free acrylic gesso. Canvas weight is 11.5 oz.

Will the final dimension be exactly as specified in the order?

We can come close, between 0.25 inch to 0.5 inch of accuracy, but NOT the EXACT dimension. If you need the item to fit into a particular space, please measure 0.5 inch to 1 inch smaller to avoid fitting issue. We will not be issuing credits/refund/return when an item is within 0.25 inch to 0.5 inch of accuracy.

Can I use your canvas for oil painting or acrylic painting?

Our canvases can be used for both oil painting and acrylic painting as well as pastels and watercolor.

How thick is the frame on the canvas? or what is the depth of the canvas?

We have many sizes to choose from in the stretcher bar selection. When you selecting the stretcher bar size, that is the thickness/depth of the canvas you are getting.

Do the canvases and frames come with hanging hardware?

All canvases and frames come with metal hanging D-rings pre-installed to the back.

Can I pick up my canvas order from your location if I live in Texas or nearby?

At this time, we do not have dedicated staff to support pick-up orders or walk-in customers. All of our orders have to be placed on the website and get shipped out.

What is your payment method?

We accept all major credit cards and debit cards: Visa, MasterCard, American Express, JCB, Discover, and Diners Club. We also have financing option available. See next question below.

How do I apply for financing service for a purchase?

Buy now and pay later in monthly installments. This option is available for any purchase total of $99 or more. We partnered with Paypal Credit to offer this service for our products. You can go here to get pre-approved and then contact us to place the order with our customer service team using your approved credit.

What is your return and exchange policy?

* Shipment Damages: Please inspect the product immediately upon delivery. In the event that damages occurred in transit YOU MUST CONTACT US WITHIN 2 DAYS OF DELIVERY. If you or your client will be out of town or going on a vacation, let us know within 12 hours of the order confirmation and we can hold the order until you are back in town. We cannot file a damage claim or issue a replacement if you notify us after the 2 day period has expired (no exceptions). We also need photos of the damaged item, box, and packing material as proof to file a claim.

* Return/Exchange/Refund: All return/exchange/refund must be pre-approved before shipping any item back to us. Returned item(s) need to be repacked in its original packaging including interior packing. A 25% restock fee will apply. Customer pays return freight. If you received upgraded service delivery or free shipping special, the actual cost of shipping will be deducted. Upon return, all item(s) will be inspected. Appropriate exchanges, credits and refunds will be issued for the purchase price of the item(s). Orders eligible for refund will be refunded in the original form of tender. Please call our Customer Service Dept. at 1-877-978-1109 with any return/exchange/refund questions.


Read F.A.Q. Contact Us View Your Shopping Cart

---
Superior Quality. Heavy Duty.
Tightly stretched and built with heavy duty solid wood frame. With strong corner support and a well designed wood frame, these canvases are simply unbreakable. Years of working directly with artists allowed us to learn and improve the quality of our canvases. When the canvases are delivered, you will agree with the thousands of professional artists who have repeatedly placed their trust in us for their painting canvas.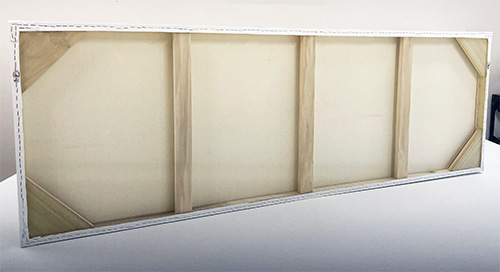 ---
Elegant Reusable Wood Case With Double Wall Cardboard
Protect and deliver the finished artwork to your clients in a professional wood frame case with double wall cardboard, custom built for the canvas. The wood case is also made from the same heavy duty hardwood and will last as long as the canvases come in it. You are getting TWO high quality canvases for the price of ONE, a presentable carrying case for your new and old canvases, delivered to your home with free shipping. To top it off, everything is custom made here in the USA (Austin, TX). 🇺🇸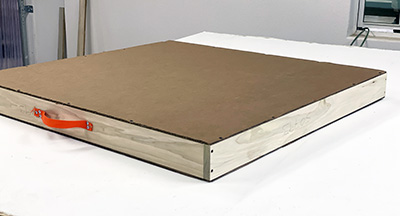 ---
Size & Thickness
Get the exact size you need for a custom stretched canvas. CanvasLot specializes in building and shipping custom sized and X-Large canvases nation wide. It has never been easier to buy odd size blank canvases and select from many different stretcher bar depth (thickness) you need and have it delivered right to your door step.
---
Buy From The Source
Every artist canvas and frame we sell is done in house from sizing and assembling to stretching and packaging, even the box we used to ship the canvas is designed and made by CanvasLot. We are the manufacture and retailer for all of CanvasLot products. Buying directly from the source allows you to have true quality at the best price.
---
Hand-Stretched
All of our blank canvases are gallery wrapped & hand-stretched to perfection. The canvas material we use is the same type of heavy duty canvas professional artists use: the 11.5 oz premium grade double primed cotton canvas. These canvases can be used for both oil painting and acrylic painting as well as pastels and watercolor.
---
Back-Stapled
Our canvases are back-stapled only for a classic gallery look, even though this process takes more canvas and more time than the canvases with staples to the sides you often see. We takes great pride in the quality and craftsmanship of our products and will always avoid shortcuts which sacrifice the quality.
---
Stretched Canvas. Primed and Ready.
CanvasLot canvases are made from 100% cotton canvas and doubled primed with acid-free acrylic gesso ready to be painted on. How the paint reacts to the artist canvas surface is what really matters. The canvas also comes with metal D-ring pre-installed, ready to hang when your masterpiece is completed.
---