Select Width:
(horizontal side)
Select Height:
(vertical side)
Select Thickness/Depth:
(stretcher bar thickness)
Select Finish:
(Gesso Option)

Wood Panel Preview: 31"W x 31"H x 1 3/4"D

BOGO Promotion: Buy 1 Wood Panel Get 1 FREE
2nd wood panel MUST BE ADDED to the cart for the discount to apply

$279

($140 each with promotion)

Promotion ends Mon, Sep 25th at 11:59 PM

FREE SHIPPING. Ship in 5 to 7 business days.
Contact us about rush order or expedited shipping

Loading... Please Wait...

or pay as low as $12/mo with financing option


Contact Us View Your Shopping Cart

---
Custom Wood Panels For Painting and Mixed Media
Did you know most surviving paintings from as early as the 13th century are painted on wooden panels? They are by no means a new art medium but wood panels are making a come back in the art world and there are reasons for it. They are durable and refract light differently than canvas, making the paint colors more brilliant and vibrant. Our high-quality Baltic birch plywood surface allow artists to use any artistic medium including oil paint, acrylic paint, encaustic paint and mixed media 3D collage with glass, metal, fabric, epoxy, just to name a few.
If you haven't yet, now is the time to try this painting medium. We are running a BOGO & Free Shipping promotion on all custom sized artist wood panels.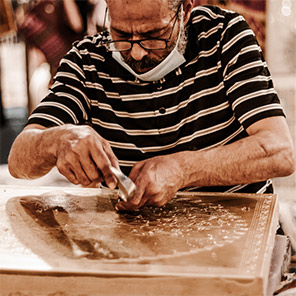 ---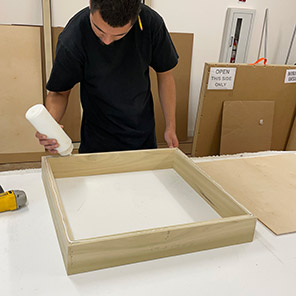 Built To Last
The solid designed structure of CanvasLot artist wood panels prevents them from being torn or damaged by mishandling and will last many lifetimes. The stretcher bar frame is made from heavy duty poplar solid wood.
All of CanvasLot products are designed and built in Austin, TX and undergoes a rigorous inspection process prior to leaving our facility to ensure the highest quality and craftsmanship.
---
Custom Sizes & Custom Thickness & Depth with Un-Finished & Double White Primer Option
Custom artist wood panels are available in any sizes from 6 inch up to 47x95 inch. There are 5 standard choices of stretcher bars depth ranging from 1.5 inch up to 4 inch deep. If you need a custom size, thickness or depth that is not shown here on the website, you can send us the request here. No matter how odd is the dimension you need for your project, we can make it.
For finishing, we offer the standard un-finished wood option or the sanded and primed with double layer of white gesso.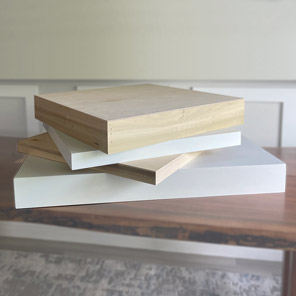 ---
Hanging Hardware & Reusable Protective Case Included
All wood panels come with hanging hardware attached. The hanging hardware is installed on the horizontal side on the back of the wood panel. The custom art shipping box can be re-used as a protective case to deliver or ship the finished artwork to your client.
---